Date Night is Better With Dinner for Two!
It's that time of the week again. You and yours are once again all alone…the urge to have a night of pleasure and new heights of enjoyment is so strong you feel you can cut it with a knife. The tension builds ever so slowly…but first…that burning question. "I don't know, where do YOU want to eat?" I mean, what did you think we were talking about? Ah yes, date night. That one night a week where the two of you forget about the stress of the workweek and settle down for a meal, a few drinks, and remember why the two of you fell in love in the first place. The only problem? You're never quite sure where to go.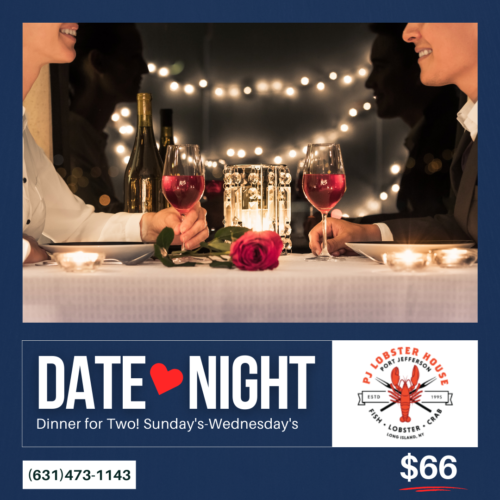 Maybe it's time you broke away from the mundane. Sure, poke bowls, pizza, and lo mien are nice…but why not put some excitement into the mix? When it comes to choosing the location for your next date night, why not be adventurous and try PJ's Lobster House? We'll give you some ideal reasons…
Sunday through Wednesday All-Inclusive Dinner for Two…$66
Think for a moment about how much a bill runs up at your average restaurant. Waiting for the check always involves a moment of dread at the thought that you've run up a tab that has the potential to break the bank. Well, our special eliminates this scenario from date night all together. For a fraction of the price of what you pay at another upscale establishment, you get two soups or salads, two entrees, an appetizer, and dessert. Adjusted for inflation, that's still a bargain that surpasses all others. 
Ideal Picks for the Ideal Couple 
Ordering from our Sun-Wed menu means having some of the best options available. Here are just a few samples of the entrees we carry. These are also options that are very beneficial health-wise, as the American Heart Association recommends two to three servings of fish a week to promote a healthy heart. 
Honey Mustard Salmon

Pan-seared salmon topped with honey mustard & horseradish. 
Sesame Encrusted Tuna

Yellowfin tuna are pan-seared with wasabi for the special kick we all crave from time to time.

 
Salmon Pinwheel

Wrapped salmon fillet with our homemade seafood salad for a balanced meal with impeccable taste. 
Black Angus Burger

If you're someone who prefers to get their protein from a different source, our 8oz. burger has you covered. 
Anytime is a Good Time for a Visit to PJ's Lobster House
Aside from offering the ideal escape for date night, PJ's Lobster House features a diverse menu, incredibly crafted drinks, and a fish market for all your seafood needs. For a menu, directions, and much more, swim on over to https://www.pjlobsterhouse.com/.
Contact Us