Celebrate National Seafood Month at PJ Lobster House!
Did you know that October is National Seafood Month? This month of the year is the ideal time to dine on some tasty seafood meals. Seafood is a delicious, healthy, and versatile food group. There's a seafood for everyone, whether dining on lobster, sushi, salmon, or shrimp.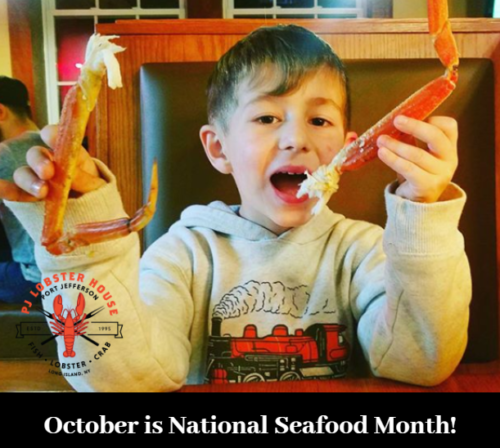 People have been eating seafood for ages. Early cave drawings depict humans fishing and eating seafood to prove it! Today, people across the globe enjoy seafood for its many major health benefits, as well as it's delectable flavor.
Fish provide essential nutrients to humans, including vitamin A, vitamin B, and vitamin D. This natural source of vitamins is a great way to maintain a healthy diet. Fish also promotes heart health because the food is low in saturated fats and high in protein. Fish is also rich in omega-3 fatty acids, which can help reduce the risk of sudden cardiac arrest, heart attacks, and strokes. Fish is even great for your joints. Dining on certain kinds of seafood can ease tender joints, thanks to the omega-3 fatty acids they contain. Fish is also known to create glowing skin, improved memory, and have positive effects on pregnant women.
At PJ Lobster House, we offer an incredible selection of seafood. Visit our market to purchase fresh shrimp, lobster, clams, oysters, salmon, and so much more to cook at home. If you'd rather us prepare the food for you, sit down at our restaurant and order a delicious seafood meal off of our menu. Diners can visit PJ Lobster House at 1 North Country Rd in Port Jefferson. Make a reservation on our website or call us at 631-473-1143. We are open on Mondays through Thursdays from 11 a.m. to 9:30 p.m., Fridays and Saturdays from 11 a.m. to 10 p.m., and Sundays from 11 a.m. to 9:30 p.m. We hope you spend National Seafood Month with us!
Seafood Restaurant near Miller Place | National Seafood Month at PJ Lobster House