13 Benefits of Tuna
Tuna is one of the healthiest foods you can try, along with all the seafood we serve at PJ Lobster House. Let's take a moment to recall the amazing benefits of this sometimes overlooked superfood.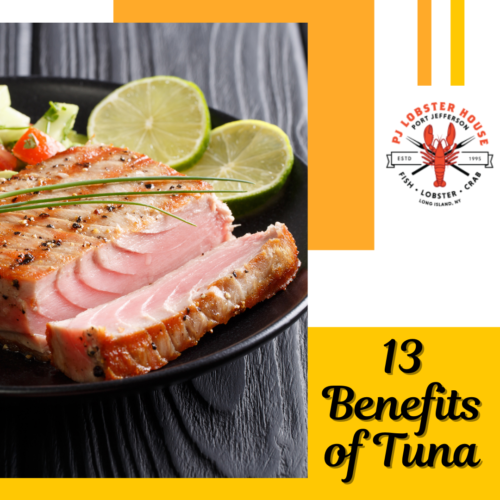 If you need to watch your cholesterol, then tuna is a splendid choice. It has optimal levels of Omega-3 fats, which are high in good cholesterol and low in the bad kind.
Tuna Helps Lower Blood Pressure
The copious amounts of potassium are a great way to help blood pressure and many other health impediments.
It Can Help You Lose Weight
There's a lot packed into tuna despite it being a low-calorie food. For all those who are trying to shed a few pounds, we recommend this light but satiating seafood selection.
Tuna Boosts Your Immune System
More health watchers know that the key to good immune health involves maximizing vitamins and nutrients like zinc, vitamin C, selenium, and manganese. The good news is that tuna is full of them.
Mix in Some Tuna to Fight Cancer
If you can keep your immune system strong, you have a much better chance of avoiding cancer. Tuna also helps you avoid this awful condition with high levels of antioxidants.
Tuna Consumption Lowers Inflammation
It's all about the Omega 3s once again. More consumption of healthy fats from fish will help you ward off painful inflammation.
It Can Help Rejuvenate Blood Circulation
There are also the iron and B-12 vitamins in tuna that help improve blood flow.
Tuna Can Promote a Healthy Thyroid
Many Americans suffer from a deteriorating thyroid gland, which is often a dietary problem. Tuna counteracts this with lots of selenium so that you avoid conditions like hyperthyroidism or Graves' Disease.
Many research studies have shown a link between seafood-rich cultures (like Scandinavia, Italy, and Okinawa) and lower rates of depression.
It Gives You Better Bone Density
This goes right along with immune health and energy. Tuna improves both, which correlates with better bones and muscles.
The Vitamins in Tuna Help Eyesight
Omega 3s also help improve eyesight. Even if it's just a case of dry eye, tuna helps rebuild natural lubrication.
Most people know that seafood is brain food. That's because it's one of the best ingredients for improved cognitive function.
Tuna Might Even Make You Look Better
Most skin conditions get better when you consume seafood. This includes wrinkles, saggy skin, brittle nails, and more.
We hope that's enough to convince you to try some tuna from our Fish Market at PJ Lobster House. Our seafood selections include tuna, lobster, crab, octopus, flounder, swordfish, Chilean sea bass, oysters, chowder clams, and more. Come see us to find out why we're the best seafood place in Port Jefferson and contact us with questions or concerns at 631-473-1143.
Contact Us